Fling Origin Story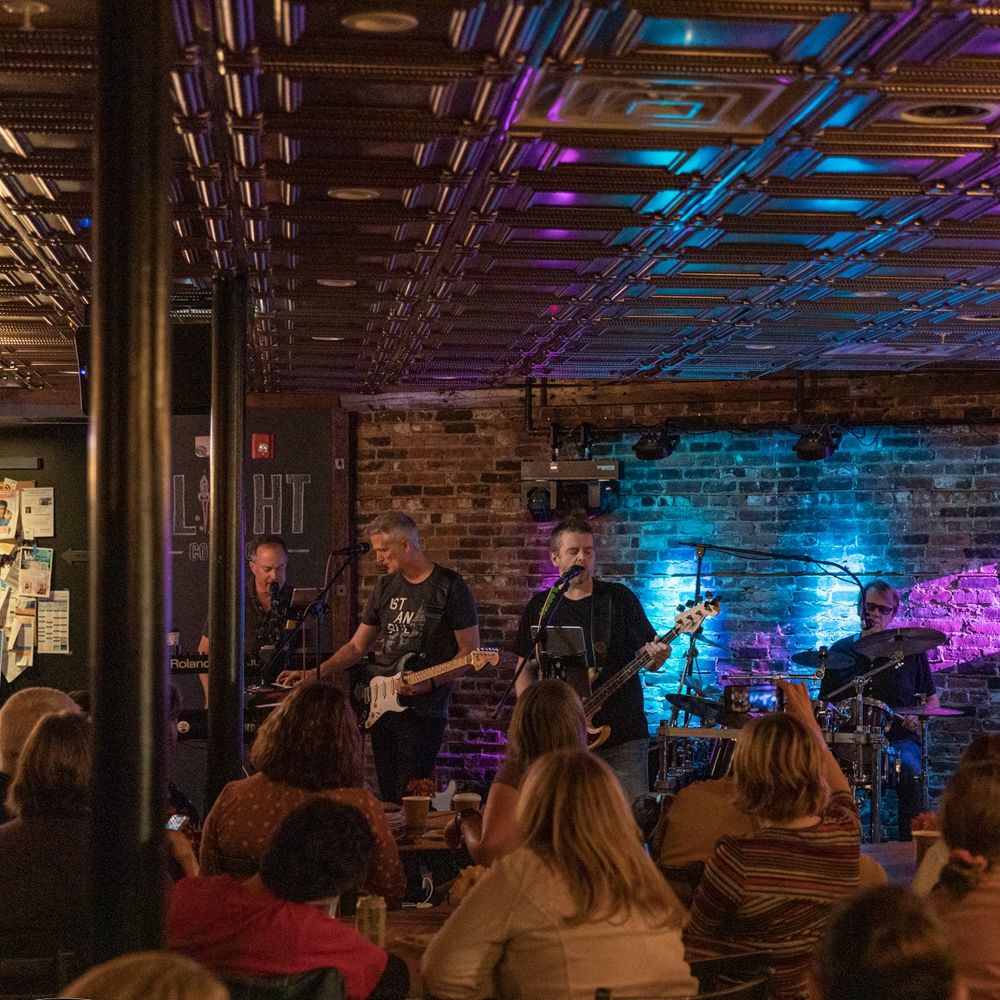 What's that you say?
How did the band Fling come to be?

What's that you say? How did the band Fling come to be?
Well, pull up a bean bag chair and marvel at the origin story of Fling! Huh, what's that? No, not the band "Fling" from Bradford, England. No, not that band "Fling" from Korea. And no, not even "The Fling" from Long Beach, California. This, my friend, is the story of New Hampshire's own Fling. A band that predates all those other more successful Flings. We are talking about the band that is currently among the top five completely unknown power pop bands based in Durham, New Hampshire. This is Fling!
Now, let's travel back to the future. Hop into the passenger seat of Doc Brown's DeLorean, crank the flux capacitor up to 1.21 gigawatts, and hit 88 mph. The year is 1987 - Prozac is making its US debut, a pound of bacon only costs $1.80, and the beloved Bill Cosby is America's dad. Walk down the fourth-floor hallway of Hubbard, a dorm on the Durham campus of UNH. Eavesdrop on two engineering undergrads / aspiring musicians, Russ Miles (of "Atomic Soldier") and Aaron Abbott (of "Truscan Fahrenheit") bonding over a mutual love of Kate Bush and Black Adder. Watch Aaron's high school chum, Randy Hall (also of "Truscan Fahrenheit"), join in as the trio record irreverent (now considered "inappropriate") original songs on a Fostex® 4-Track. Make note of one song in particular, entitled "That Thing You Do", which predated the Tom Hanks movie of the same name by seven years. Lawsuit you ask? No, we let Hanks have it. (He needs it more than us.)
Next, observe a change in narrative tense and shifting perspectives as the trio go on to form a gigging band called "The Urge" (no, not the more successful band "The Urge" from St. Louis) - adding Russ' "Atomic Soldier" bandmate, Steve Zinck, on drums and Aaron's pal, Colin Haley, on guitar. As graduation looms the five, bright-eyed, young lads give their all at a triumphant final gig at The Stone Church. As the applause fades, cue the montage of college commencement ceremonies, late hours at corporate jobs, wedding receptions, moving boxes into new houses, and children taking their first steps. Now - fade to black as Russ laments, "If only we weren't all good at math - the band might have had a chance."
Now imagine that you have consumed a bowl of gruel and are slumbering fitfully in your Victorian bed chamber. Your burgundy velvet curtains are thrown aside, and a ghostly apparition appears. Floating menacingly at your bedside, the spirit reaches out and touches the hem of your tattered nightgown with a translucent bony finger. You are instantly transported to the year 2005. Abilify has been approved by the FDA, a pound of bacon costs $3.39, and Bill Cosby is in a bit of hot water . You find yourself facing a post-and-beam barn somewhere in Southern Maine. You hear a rumble of music and notice a scent of freshly cut hardwood as you ascend the stairs to a rough-hewn loft. You observe Russ and Aaron stumbling through a few classic rock standards while Steve (Big Zincka) hits the drums like a crazed wind-up toy monkey. Just like the ol' college days! Russ' recruits his neighbor, Mike Mangan (of "The Lounge Kings"), to join in on guitar. While local acting phenom, Andy Fling, adds bass and vocals. Witness here, my friend, the birth of Fling! (The band, not Andy.)
The scene fades like a misty memory. You sense time passing. Through the haze you see Andy amicably depart the band, kindly bequeathing his surname to his bandmates . . . which is much appreciated as the stickers were already printed. More time passes. You watch as Dave Hamilton (of "Hypnotic Clambake" and "Go Figure") takes over drum duties as "Big Zincka" shifts his focus to his first love, garlic farming. A bassist (or two) come and go until, finally, Burke Leavitt (of "Oddly Enough") jumps in on bass.
With Burke on board - Fling gets tighter, expands its repertoire of covers, and starts booking more gigs. This "classic line-up" of Fling (Russ, Aaron, Mike, Dave, and Burke) spends the next ten years playing just about every bar in the Seacoast of NH. Throughout this time the band continue to sporadically work on writing original music, and, in 2016, they release a self-produced EP of original tunes called "Bovine Abduction". Things are good. Fade to white.
Now, imagine you don a brightly colored bathing suit and step into the warm, bubbly waters of a hot tub time machine. After a swirly thing happens and some sound effects, you emerge in the year 2020. A majority of US states have approved the use of medical marijuana, a pound of bacon costs $5.59, and 83-year old Bill Cosby is serving 3 to 10 years in prison for felony sexual assault. And, in a cruel plot twist, a pesky global pandemic has shut down live music performances worldwide! The lockdown begins. Your pals in Fling are forced to cancel all gigs and even discontinue rehearsals. Silence.
As the pandemic drags on, the intrepid fellows in Fling remotely record and release a second EP of original music entitled "The World Is In Our Hands". And, during a temporary lull in the infection rate, the band organizes and plays a gig (in a post-and-beam barn) with pals "The Church Ladies" and the "Bitter Pill Band". Little did they know this would be the last appearance of Fling's "classic line-up".
As the pandemic ramps back up, personal priorities are reassessed. Burke resigns (amicably) to focus on other musical pursuits - heralding the end of an era in Fling's history! Will the band dissolve? Is this the end of the Fling? Not just yet.
The remaining four agree to push forward, re-focusing their efforts on writing and recording original music. The pandemic lifts and a Facebook post seeking a "fellow nerd" to join on bass is answered. Talented singer / songwriter / actor (and former roommate of Andy Fling!), Jamie Bradley joins on bass and helps complete Fling's third EP entitled "Uncorked".
As the summer of 2023 cools into Fall, long-time lead guitarist, Mike Mangan, decides to move on from Fling and focus on his new band "Dog Chewed Hat" which features his talented daughter Lily on bass, Russ on rhythm guitar, and Russ' former college bandmate, Tim Spooner, on drums.
Today – Fling is Aaron, Dave, Russ, and Jamie. Listen to their songs, buy a t-shirt, and go see them live!